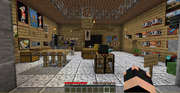 garagecraft.mcph.co is a Minecraft server and is used for filming part of the series, Gaming Show (In My Parents' Garage).
Current description
Welcome to the Gaming Show (in my parents Garage)
--FACTIONS-- in Survival Creative - build BIG!
Design
Gallery
To view the gallery for Garagecraft.mcph.co, click here.
Ad blocker interference detected!
Wikia is a free-to-use site that makes money from advertising. We have a modified experience for viewers using ad blockers

Wikia is not accessible if you've made further modifications. Remove the custom ad blocker rule(s) and the page will load as expected.